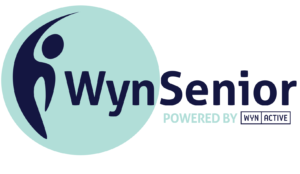 WynSenior
EXERCISE FOR OVER 60s
WynSenior is a program designed for over 60s, allowing participants to access WynActive facilities and services at a discounted rate. The program includes specialty Group Fitness classes, tailored to the 60+ age group to increase strength, balance, flexibility and coordination. WynSenior patrons can visit AquaPulse or Eagle Stadium gyms anytime during the opening hours. Participants have the option to attend a Fitness Consultation, whereby the Fitness Coach designs an individualised gym program. Participation in WynSenior services will help to improve confidence and reduce the risk of falls. WynSenior is:
delivered in a safe and welcoming environment with people of similar age
tailored to your individual needs and goals
supervised by skilled, qualified instructors
Pricing
| | |
| --- | --- |
| WynSenior Group Fitness Class | $7.50 |
| Gym Session | $7.50 |
| Fitness Consultation | $10.00 |
Frequently Asked Questions
---
How old do you need to be to attend WynSenior?
---
How does WynSenior differ from the Active Senior Membership?

WynSenior is designed for patrons wanting casual use of WynActive facilities (the better option for patrons who plan on exercising 1-2 days a week). If patrons are coming in 3 days or more consistently,they would be better to upgrade to the
---
Can WynSeniors do other classes on the timetable that are not specifically WynSenior classes?

Yes, however patrons will pay the general admission price for non-WynSenior classes, not the discounted price.
---
Can under 60s do a WynSenior Class?

Yes, however if the person is not a WynActive member they will pay the general group fitness price.
---
Do WynSenior patrons need to stay for the full length of a group fitness class?

No, WynSenior patrons can partake in as much of the class as they would like. If they want to try out a class and leave partway through, that is ok.
---
Can WynSeniors do Aqua Aerobics?

Yes, there is a WynSenior Aqua Aerobics class on the group fitness timetable ($7.50). WynSeniors can also attend Aqua classed open to everyone, however they will need to pay the general admission price.
---
Can WynSenior patrons use the aquatic facilities?

Yes, at the general admission price.
---
Still have questions? Enquire below
For more information, please speak to a member of staff on the gym floor or call the Services desk at Aquapulse on (03) 8734 5678 to find out more.